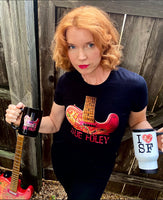 Welcome to my Shop!
Folks,
Here's where you get your official Sue Foley and Pinky merch. Hope you can find something you love. We will be updating products regularly so be sure to come back and see us again!
Thanks for visiting. See you soon. :)
SF
PS Subscribe here and get a special 10% off promo code on all purchases.
"Her playing and singing are of the highest order"

Exclaim
"This country's finest blues guitarist"

Globe and Mail